Safety issues stay at the top of our agenda

Representatives participate in several groups:
A national Employer-Iron Worker safety committee that monitors, testifies and confers with OSHA on existing and proposed regulations.

A national training program that conducts an annual school for Iron Worker instructors in Michigan.

A post-tensioning certification committee.

The Ironworker-Management Progressive Action Cooperative Trust (IMPACT), which develops programs to increase job
opportunities and market share for Iron Workers and their employers.
We also conduct ongoing training programs and produce training videos, both solo and in partnership with the International Association of Bridge, Structural, Ornamental and Reinforcing Iron Workers and its local unions.
Our annual convention promotes industry ties
The NARSC yearly convention provides
educational forums, plus demonstrations of the latest placing techniques, equipment and safety products. What's more, it allows contractors to share ideas on today's challenges and tomorrow's priorities… and forge strong friendships and business relationships that grow year by year.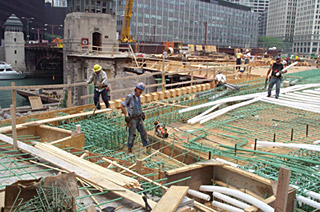 NARSC moves the reinforcing steel and post-tensioning industries ahead. Inside the industry, we champion advances in safety and appropriate certifications to ensure good working conditions, high morale and excellence on the job. On the broad scene, we maintain contacts with the media to enhance the public perception of the industry. And for our members, we promote networking opportunities that allow contractors to learn from each other's successes.